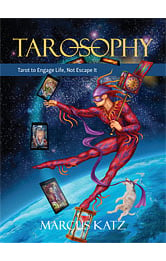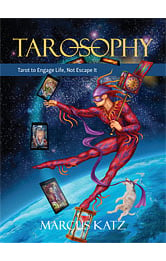 Tarosophy: Tarot to Engage Life, Not Escape It, Marcus Katz
$19.50
~ Usually USD$29.95, now USD$19.50 – 33% discount ~
" Marcus Katz has recovered the spiritual dignity of tarot."
- Naomi Ozaniec, author of The Watkins Tarot Handbook and The Aquarian Qabalah
" From the first steps in reading tarot through metaphysical correspondences and on to professional marketing, this book has it all! Marcus Katz's Tarosophy is a work of intelligence and depth, featuring tons of tarot tips and exercises that will help you access the wisdom of the cards in a manner that is accessible, playful and practical. Highly recommended."
- Mary K. Greer, author of 21 Ways to Read a Tarot Card
" Marcus Katz has fixed himself as a bright 'Star' in the firmament of tarot. His Tarosophy is everything its subtitle promises: Tarot to Engage Life, Not Escape It. It's sane, sensible, and profoundly original. His 'Temple of Thoth' (Gated Spread) alone is worth the price of admission."
- Lon Milo DuQuette, author of Understanding Aleister Crowley's Thoth Tarot and creator of Tarot of Ceremonial Magick
" In precise detail, with clarity but also with wit and a playful and explorative mind, Marcus Katz maps out a course for the serious tarot reader. Ranging across culture, myth, and history as well as the tarot tradition itself, this book is a major contribution."
- Rachel Pollack, author of Seventy-Eight Degrees of Wisdom
" Any system of thought such as tarot, kabbalah or astrology that reflects life processes back at the user of that system, thereby enabling him or her to live life more consciously and spiritually – in harmony and accord with life itself – is, of necessity, very complex. The teaching of such is therefore commensurately difficult. Here, in a manner I would love to see employed for the teaching of other disciplines too, Master Katz – for Master he is – has delivered to us a manual for learning tarot (and much more) by being true to its own strap line: he engages the reader, not just through clear, practical and reliable information, but through numerous interactive exercises, techniques and rituals that effectively find tarot being taught to you from the inside out! From 'Tarot True' through 'Tarot Deep' to 'Tarot High' he takes you on an enjoyable and rewarding journey of discovery that births the unique tarot-reader who was already inside of you. Genius!"
- Lyn Birkbeck, astrological consultant and author of Understanding The Future, Do-It-Yourself Astrology and The Instant Astrologer
" After twenty years of reading Tarot, I've now discovered with Marcus that they're much more – very much more – than 78 cards in a deck. "
- Brett Bradford, tarot reader
About the book:
Based upon 30 years of studying, reading and teaching tarot, more than 10,000 face-to-face readings and extensive research in the field, Marcus Katz successfully combines academic rigour with invaluable practical experience and breathtaking originality in Tarosophy: Tarot to Engage Life, Not Escape It.
Suitable for all tarot readers – from absolute beginners to experienced professionals – Tarosophy is written in three sections:
basic tarot in a new light for the beginning Tarosophist;
intermediate tarot in a magical light for the enquiring Tarosophist; and
advanced tarot in a spiritual light for the progressive Tarosophist.
From terminology and technique, to reading and spreads, inner work and trees, Tarosophy encapsulates the wisdom of tarot as a living, divine art and science; a dynamic interface between awareness and appearance, and a system to observe, tie and untie the 'secret knots' that bind the world.
With 50 unique exercises, in excess of 50 illustrations, extensive footnotes, and detailed reading lists, there are more new tarot ideas on any given page of Tarosophy than in some entire texts on the subject.
Accessible, sensible and practical, leading tarot teachers, scholars and authors around the world agree that Tarosophy is a major contribution to the tarot tradition.
Reviews:
Marcus Katz' Tarosophy is an amazing work of tarot introduction, study and application. Never before has there been such a detailed and well researched piece of work that guides the reader further into this esoteric art . For the beginner it reveals unique approaches of study, (no standard "card keys" here!); for the intermediate there is insight that helps one further expand their relationship with tarot – offering advice on the various types of decks more in tune to specific types of reading; and for those moving toward advanced study, an introduction to kabbalah (complete with the poetic work of Aleister Crowley) and its application to the craft. This work also includes tips to set you apart as a professional reader. This is all done with an easy reading style and sense of humour leaving the reader wanting more! As a self professed Tarot Master, I have studied with many Tarot Scholars. Marcus Katz is the crème of the crop! Thank you for openly and generously sharing your talent with us Marcus. Tarosophy is a gift to the Tarot communitiy.
Gina Spriggs, aka Gina the Tarologist
This afternoon I received and gave a thorough reading of Marcus Katz's new book entitled, "TAROSOPHY" starting with its Front Cover to page 25 - and afterwards, I examined the overall design layout, all photos, graphics, charts & tables within, to the back cover.
Without doubt or hesitation, TAROSOPHY is a "must buy" for any Tarot Researcher & Collector, to obtain the 5 Gardner G:.D:. color plate documents, concerning Celtic Cross reading method(s) and who's presence within this book does insure, that as a one run publication, it can only increase in monetary/intellectual value over the years ahead.
The typography, layout and overall design is outstanding and professionally done, exceeding anyone's standards - traditional or modern, this eye friendly presentation of the material cannot be overstated, it is Superb!"
Gregory Jensen van Etten
I received my copy of Tarosophy in the post today with a truly lovely autograph in the front. Besides this book being filled with most incredible material, the quality of the actual book itself is amazing. A truly visually stunning book. Part of me just wants to hold it in my hands and never open it, like some sort of book sculpture ;-) Of course, the other part of me says... "Come on, let's crack that binding and learn stuff!" :-) You really must have this book!
Robin Dalton, UK
ISBN: 978-0-9804099-3-2
Author: Marcus Katz
Title: Tarosophy: Tarot to Engage Life, Not Escape It
Series: Modern Magistery
Language: English
Publisher: Salamander and Sons
Pub date: 23 July 2011
Extent: 356pp + 5pp colour plates
Height: 230mm
Width: 170mm
Thickness: 21mm
Format: Paperback