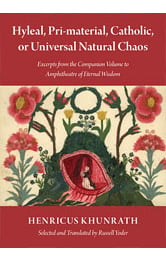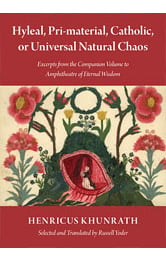 Hyleal, Pri-material, Catholic, or Universal Natural Chaos, Russell Yoder
$9.95
Hyleal, Pri-material, Catholic, or Universal Natural Chaos: Excerpts from the Companion Volume to Amphitheatre of Eternal Wisdom, Henricus Khunrath
Selected and Translated by Russell Yoder
~ Usually USD$14.95, now USD$9.95 – 33% discount ~
"… the Universal seed, source, and root of all Metals and Minerals is to be found lying in our Chaos Magnesiae … So the Wise are obliged at all times to keep this Highest Secret closely hidden. Here – in this place – study, meditate, sweat, labour, cook; and let not thy cooking vex thee. Thus will be opened to thee a healing flood, which springs from the Heart of the Son of the Great World, in opposition to the frailty of all material things …"
- Henricus Khunrath
"… for Khunrath all Substances of the Laboratory must also be resolvable and convertible from the Plane of Oratorical Alchemy (the Living Word), which is both the Source of Creation, and all possible and allowable Re-Creation."
- Russell Yoder
About the book:
Hyleal, Pri-material, Catholic, or Universal Natural Chaos consists of excerpts from the companion volume to Henricus Khunrath's alchemical classic, Amphitheatrum sapientiae aeternae (or, Amphitheatre of Eternal Wisdom).
Englished for the first time by Russell Yoder, Hyleal, Pri-material, Catholic, or Universal Natural Chaos is initially concerned with Magnesia (the "Magnet of the Lord" and "universal raw Stone of the Wise that is to be found in Nature"), the Green Lion of Nature (the "fiery spark or ray of the World's Soul, or Light of Nature" that is "the naturally, conceivably catholic All") and Our Chaos or Hyle ("the World's First Water … [the] Fountain [from which] all material things have their first origin" which is the "Fundament or Foundation, the Basis of the World that God Himself put in place … [which] the edifice of the entire earth is set upon …").
Embodying a kind of Christianised natural magic influenced as much by kabbalah, natural philosophy and the works of Paracelsus as by Lutheran pietism and devotion, the Divinely inspired and particular revelations of Hyleal, Pri-material, Catholic, or Universal Natural Chaos extend to include heavenly influences and the timing of the work, Azoth or Living Mercury ("not quicksilver, nor something taken out of or from him, but Mercurius – that which the Philosophers speak of!"), Salt of Magnesia ("often called Sal Petra or Sal Peter, Sal Alkali, Sal Gemma or the Noble Rock-salt … from the radical Humidity of the whole World"), and the artful and natural elevation of plants, animals and minerals "to the highest Natural Perfection" towards "true Regeneration and more than perfect Multiplication of Metals [and] an exceedingly powerful Universal Medicine …"
Includes a brief but highly insightful tract in verse 'from F.R.C.' on the subject of Our Chaos – Hyle – published as part of The Golden Rose (1704), almost 100 years after the publication of Khunrath's Amphitheatrum, and exactly 90 years after the appearance of the Rosicrucian manifesto Fama Fraternitatis R.C. (1614).
About the author:
Russell Yoder is descended from a Swiss German and French Huguenot family in Pennsylvania. His great-great grandmother was a member of Dr. George DeBenneville's Rosicrucian and Universalist teaching circle northwest of Philadelphia, in the Oley Valley of 18th century Pennsylvania. DeBenneville, who was also a friend of the nearby radical pietist commune at Ephrata, is the only proven early American to have achieved the Opus. Russell is the translator of DeBenneville's single copy handwritten manuscript on the preparation of the Philosopher's Stone, currently housed in the archives of the Schwenkfelder Heritage Center and Library, Pennsburg. During the 1980s Russell also served as the last teaching Elder and translator of the Ephrata Society's literature on the practice of Behmenist alchemy. His published work includes Light Dawning: The Origin of Rosicrucian Mysticism in the New World and An Early American Alchemical Treatise, both currently available from the J.D. Holmes Group (Sequim, Washington). Russell is retired and living in Thailand.
ISBN: 978-0-9875206-4-7
Author: Henricus Khunrath; Selected and Translated by Russell Yoder
Title: Hyleal, Pri-material, Catholic, or Universal Natural Chaos: Excerpts from the Companion Volume to Amphitheatre of Eternal Wisdom
Series: Unearthed Arcana
Language: English
Publisher: Salamander and Sons
Pub date: June 2014
Extent: 38pp (approx.)
Height: 210mm
Width: 148mm
Format: Monograph