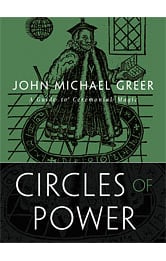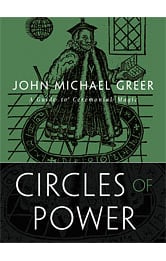 Circles of Power: A Guide to Ceremonial Magic (Second Edition), John Michael Greer
$19.50
~ usually USD$29.95, now USD$19.50 – 33% discount ~
"When Circles of Power was first released in 1997, it changed the way a generation of magicians looked at the magic of the Hermetic Order of the Golden Dawn. With this new and revised edition, Greer has brought his earlier insights full circle providing both new and experienced magicians theories and methods to make their magical operations more fulfilling. Neither leaving the earth behind for the airy bliss of the starry heavens, nor being stuck in the world of concrete 'spell casting', Circles of Power provides clear instructions on how to make magic a meaningful philosophy in daily life. Here, the keys for deeper experiences into alternate dimensions of reality are provided in three stages of practice that can be followed by anyone. Bringing his erudition and practical experience to bear, Greer illuminates some of the more complicated areas of occult philosophy such as egregores, Holy Guardian Angel, Higher Self, and the Soul of the World, all while demonstrating their role in successful occult operations. Circles of Power is a book on magic of value to all scholars and practitioners – Hermetic, Neo-Pagan, Wiccan – all will find theories and practices to improve their understanding and experience of ritual magic, and from it, the means to having a more fulfilling and joyous life."
- Mark Stavish, M.A., Director of Studies, Institute for Hermetic Studies, author of The Path of Alchemy and Between the Gates: Lucid Dreaming, Astral Projection and the Body of Light in Western Esotericism
About the book:
"When ritual and the relationships of meaning which underlie it are studied and used deliberately ... a whole range of possibilities opens up. These possibilities include most of the methods of magic ... symbolism and symbolic action – that is, ritual – form the most important elements of the magician's toolkit. The mastery of ritual thus offers what is probably the single most important way to begin to make use of the immense hidden potentials of human consciousness, potentials which go far beyond the limits most people nowadays place on what it means to be human."
One of the most prestigious esoteric groups of the Victorian era, the Hermetic Order of the Golden Dawn has been described as "a system for perfecting the raw material that is humanity; a system for discovering the Divine Source within, and for seeing it in all things; a system for awakening the consciousness within and uniting with that of the universe itself."
InCircles of Power: A Guide to Ceremonial Magic, John Michael Greer provides a practical guide to the eloquent and powerful system of Cabalistic ritual magic developed by the Hermetic Order of the Golden Dawn – arguably the most complete and fully developed of the living traditions of Western magic.
Greer clearly articulates in plain English the nature of Golden Dawn ritual magic; the magical macrocosm and microcosm, and the tools and practice of ritual magic. In doing so, he concisely summarises the foundations of Golden Dawn ritual (such as Invoking and Banishing, the Middle Pillar exercises, and Opening and Closing), the applications of such ritual (including working tools, talismans, evocation, invisibility and transformation, and spiritual development) and the Formula of the Equinox.
Extensively illustrated throughout, Circles of Power features 38 rituals and ceremonies described in detail, plus guidance for the solitary magician and an appendix of cabalistic symbolism.
About the author:
Born in the gritty Navy town of Bremerton, Washington and raised in the south Seattle suburbs, John Michael Greer began writing about as soon as he could hold a pencil. His first published book, Paths of Wisdom: Cabala in the Western Tradition, appeared in 1996 and has been followed to date by more than 30 non-fiction works in half a dozen fields, and one science fiction novel, The Fires of Shalsha. A long-time practitioner of Druid spirituality and ceremonial magic, Greer is the Grand Archdruid of the Ancient Order of Druids in America (AODA), a Druid Revival order founded in 1912. Through his books and his weekly blog, The Archdruid Report, Greer has also become an influential voice in the emerging conversation about the future of industrial society at the end of the age of fossil fuels. He lives with his wife Sara in Cumberland, Maryland, an old red brick mill town in the north central Appalachians.
ISBN: 978-0-9875206-0-9
Author: John Michael Greer
Title: Circles of Power: A Guide to Ceremonial Magic (Second Edition)
Series: Modern Magistery
Language: English
Publisher: Salamander and Sons
Pub date: 15 November 2014
Extent: 319pp
Height: 230mm
Width: 170mm
Thickness: 16mm
Format: Paperback