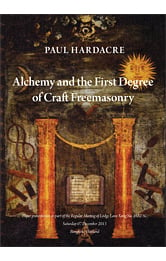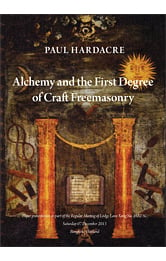 Alchemy and the First Degree of Craft Freemasonry, Paul Hardacre
$10.00
~ Usually USD$15.00, now USD$10.00 – 33% discount ~
About the book:
At the request of the Right Worshipful Master, the Entered Apprentice – an experienced alchemist – considers the First Degree of Craft Freemasonry through an alchemical lens, and presents the findings in Lodge. Considered by some as a preparatory degree for entry into spiritual work, the Entered Apprentice Degree not only echoes the structure of the ancient mystery schools which form the foundation of the Western esoteric tradition; more specifically this First Degree is abundantly rich in symbolism, much of which has been assimilated from traditions as various as Gnosticism, Hermeticism, Neoplatonism, qabalah, sacred geometry, and alchemy.
It is the influence of alchemy – both symbolic and operative – upon the First Degree with which this monograph is primarily concerned. When described as "the metamorphosis of matter orchestrated by spirit," the transformative parallels between the Great Work of alchemy and the seeker of Light through Masonry become apparent. A detailed elaboration on alchemy is complemented by consideration of aspects of the Entered Apprentice Degree, ranging from the experience of initiation and the ongoing labour of self-mastery, to polarity and the reconciliation of opposites, to the rough and smooth ashlars of Freemasonry and their alchemical equivalent, the Lapis Philosophorum (or Philosophers' Stone).
This perfect-bound monograph is fully referenced and includes a bibliography.
About the author:
Paul Hardacre is a poet, editor, publisher, and student of the perennial philosophy. He is the author of three poetry collections: The Year Nothing (HeadworX, New Zealand, 2003), Love in the place of rats (Transit Lounge, Melbourne, 2007) and liber xix: differentia liber (Puncher and Wattmann, Sydney, 2011). His publishing ventures include boutique arts publishers papertiger media, with its soi 3 modern poets and soi 3 gold imprints; and esoteric, occult and arcane book publishers Salamander and Sons, publishers of the Alchemy Journal and the Modern Magister and Unearthed Arcana imprints. Paul is a member of the International Alchemy Guild (IAG) Steering Committee, the Society for the History of Alchemy and Chemistry (SHAC), the European Society for the Study of Western Esotericism (ESSWE), and a number of other fraternal organisations, both public and private. Paul has travelled extensively and currently resides with his wife and son in Chiang Mai, Thailand, home to his significant esoteric library and active alchemical laboratory.
Author: Paul Hardacre
Title: Alchemy and the First Degree of Craft Freemasonry
Series: Privately issued
Language: English
Publisher: Salamander and Sons
Pub date: 07 December 2013
Extent: 34pp
Height: 210mm
Width: 148mm
Thickness: 2mm
Format: Monograph